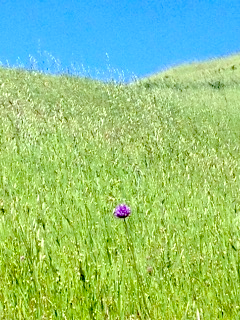 This photo was taken on one of my many hikes in the hills—and I just fell in love with it.  As I was hiking through nothing but grass, I spotted one single flower. Not anywhere around that day, nor since, have I seen another. Its splendor seemed amplified with its brilliant purple hue, naked stem, piercing upwards through the green grass into the blue skies.  Sometimes we feel as though we are the only ones, yet we fail to notice the beauty in this—the deep knowing that where there is one, there might grow to be more.  And, in the moment that we are but solitary, we can shine in such brilliance that the world has yet to see.
In my mind, there are many different types of leaders, but all of them have something in common—being the first to go for it (in whatever manner that may be).  Those who don't see the magic, power, and radiance feel the lonely side of going forward alone.  Where have you been too timid to step into the light?  How are you like this glorious little bloom, but instead of recognizing its perfection and beaming in your own uniqueness, decide to focus on the uphill battle, or your perceived ill-fitting differences, or unworthiness?
Find some little aspect of yourself today that you keep a hidden—that which scares you a bit to show—and find a way to relish and honor it. You might find a way to express it to your beloved, a dear friend, a group, or just joyously celebrate it in your own home.  Flowers eventually fade, the purple becomes brownish-grey, and its short life passes—but, I ask, if it passes without notice haven't we robbed ourselves and others of possibly the most precious of splendors?